Weekly News – Sep 7, 2022
Sep 7, 2022
Greetings Everyone,
Our Speaker tomorrow is Nathan Tohtsoni, Education Coordinator with N-Tec. Nathan was one of the very earliest N-Tec employees. He began working for N-Tec when there were only a few employees. Today over 1,400 people work there. NTEC has investments all around the United States. NTEC is one of San Juan County's larger employers and is the 3rd largest coal producer in the US.  NTEC is owned wholly by the Navajo Nation.
A big thank you to Billy DuTremaine, owner of Ironwood Gym and Locke Street Eats, for presenting to us last week.  Billy founded Cottonwood, a local drug and alcohol outpatient treatment facility and has been in business for twenty years. After participating in treatment himself, he found there was no empathy in treatment centers.  He found relief in "working out" and knew it would do great wonders to those with struggles in their life, working with the body and mind, therefore opening Ironwood Gym.  Billy is spiritual, therefore listens when spoken to, thus opening the Food Trucks.  Billy has a family oriented establishment. At his Locke Street Eats, you will find great eats, coffee, games, corn hole, and karaoke on Friday nights, bands on the weekend.  Billy makes every effort to help people by allowing them to workout in his gym, get their endorphins going, building self esteem; he says you need to assimilate and build your foundation to be successful in sobriety.  Locke Street Eats is open Tuesday thru Saturday.  The hours are Tu – Thurs 8:00 AM to 9:00 PM and Friday and Saturday they are open till 11:00 PM.  A few of us from Kiwanis went out,  had fun sitting under the pavilion, listening to Karaoke, eating tasty pizza, BBQ, ice cream, donuts, and coffee.  Mmmmm-good! Billy is all about Mind, Body, and Soul.  Thank you for presenting to us, Billy.  We enjoyed listening to you and wish you much success.
A note from our Social Chairwoman, Fran Ellison…..
Kiwanis Fiesta at Summer's – Saturday,  September 17th, 5:00 PM,  home and beautiful back yard of Summer Jakino, 5511 Country Club Dr.  Serving heavy appetizers, margaritas,  beer, fun, and fellowship.  If you haven't signed up and would like to come, DO – you can let Fran know 505-320-1227, cfmayfield@gmail.com  or  Summer summerjakino@yahoo.com. Also if you know someone who's thinking of joining our group, we'd be happy to add them to our guest list. 
Please sign up to help with a Kiwanis committee, if you haven't already done so.  Your help is much appreciated.  
D'Ann announced Membership Invoices have gone out.  Your invoice is coming to you via email from comms@portalbuzz.com.  Make sure it is not sitting in your junk mail.  Please pay your invoice as soon as possible and before September 30th.  According to Kiwanis International, the secretary must remove name from membership roll if not paid by September 30, 2022.  Your new incoming Secretary, Nikki, does not want to do that!  Please pay up and thank you.
Bring your $10 for your Boys and Girls Club BBQ Ticket taking place Friday, September 23rd from 4-7 pm.  This is a 100% profit event for the club, as Aztec Well Service donates 100% of the food.  Nikki will have your BBQ Tickets.
Dining With The Dead is around the corner!  Tickets are sold out and a waiting list is already started!   Jill is thankful to Dustin Nolen and Scott Michlin for helping promote Dining With the Dead.  The event takes place September 10th at Greenlawn Cemetery and starts at 4:00 PM.   Great job Jill!
We would like to thank our guests for attending our meeting last week.  James Courtney was a guest of Nikki Taylor, and is also her proud daddy.   Cynthia (Cindy) Reed was a guest of D'Ann Waters and is also a participant in Dining With The Dead.  We welcome you and look forward to seeing you at another meeting.
OOOH-LALA! We are nearing the end of our deck of cards, in our weekly card game!  Will you be the lucky winner?  Bring your lucky dollar for your chance to win.  Good Luck!
If you have news/information for the Kiwanis Weekly News, please let Bernadette know!
Please like us on Facebook,  riodelsolkiwanis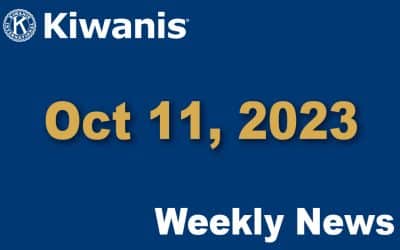 Oct 11, 2023 Hello Everyone, Our speaker...