Weekly News – Sep 6, 2023
Sep 6, 2023
Hello Everyone,
Our speaker tomorrow is Sarah Dunegan with Bow Up, a local nonprofit that is a member of the Bowhunter Association. Their goal is to bring the community together by providing a competitive 3D archery shoot.  Family Fun.
Also, the Rio del Sol Kiwanis Club is awarding 3 Honorary Member Awards to a few very outstanding community members.  They are entitled to all privileges of club membership, except voting or holding an office. We are excited to have these special people be part of our Kiwanis Family.   Come join us, say hi, and you may even know some of these amazing folks!  We hope to see you tomorrow!
Thank you to our speaker last week, Connie Nordstrom-author of Greenlawn Cemetery, A History of Farmington's Pioneer Cemetery, Established 1896. On the cover of the book is a picture of America McHenry's headstone. She was the wife of C H McHenry, whom we've portrayed in Dining With the Dead.  Their daughter Eula was 8 years old when they left Illinois and homesteaded here on the Peninsula, Junction City. We've also portrayed Eula.  Thank you Connie for bringing excitement and education to us, regarding a Cemetery that has so many stories that make our community what it is today.  We really enjoyed your information and knowledge!
Thank you to our guests last week for joining us.  Jill brought Perla, a Branch Manager with Washington Federal and Miss New Mexico America.  Congrats on winning Best Costume in the Pageant!  Laura came to join us and shared information regarding the Historical Society and Paul as well, who is also the owner of Sunglass. 
Bring your dollars to buy into the poker game; the cards are down to 14 and it supports our yearly social, too!
Dues for next year are now due and Chris Troyer will have a square device at our meeting for those who would like to pay by credit card.
The social committee would like to borrow an additional corn hole set for the social. Please call Fran (505-320-1227) if you have one to lend.
Due to a conflict, Coats for Kids Date was changed to November 11th (Saturday).  We are looking for volunteers to help check donation bins that will be put out in October.  Requires a drive by once a week to see if we have donations.  Please let Brian Turner know if you can help.  Brian.Turner@morganstanley.com
Please see the attached flyers from CASA, looking for volunteers and sharing the upcoming preservice training.
Please keep these upcoming dates in mind and consider signing up for these important events. 
Rio del Sol Kiwanis is pleased to announce we will be awarding 3 Honorary Kiwanis Members on Sept 7.  Nikki and Jill have met with these 3 community members and they are pleased to accept this special membership into our Kiwanis Club. They are: 
Shana Reeves-Assistant City Manager
T Greg Merrion-Retired President of Merrion Oil & Gas
Kenny Anderson-Franchise Owner of Local Taco Bells
September 9th-Dining With the Dead-Greenlawn Cemetery. 4:00PM. Tickets are sold out for this 10th Anniversary event!
Mark your calendars for The Annual Summer Kiwanis Social – Saturday, September 16, from 5-8pm, at Summer Jakino's beautiful home.  Food, drinks, and fun will be provided. This would be a great time to invite prospective members. There will be a Corn Hole tournament with awards!!!! Now is the time to start interviewing prospective tournament partners.  Jill McQueary will pass a sign-up sheet for the social at our next meeting or feel free to e-mail me at cfmayfield@gmail.com. Fran Mayfield
September 22nd-Boys & Girls Club of Farmington's 55th Annual BBQ.  See Nikki Taylor for Tickets.  NikkiT@bgcfarmington.org
Shoes for Kids is coming quick!  We will be organizing them at Carpet One on October 3rd at 3:30pm; thank you Lori for all your support and help with this each year!  We will then be trying them on and passing out to the kids at the Boys & Girls Club of Farmington on October 10th at 3:30pm.  The Bloomfield Club will be October 12th at 3:30pm.  We hope you can come for a while and spend some time with the kids and help out!
November 1st and 2nd is Kiwanis Clothes for Kids at Target. Bob Brooks-Chairman.  50 to 60 volunteers needed each evening.  300 to 325 elementary children expected.
Nov 11th is Coats for Kids-Brian Turner-Chairman.
Please like us on Facebook,  riodelsolkiwanis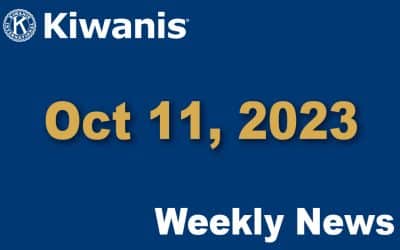 Oct 11, 2023 Hello Everyone, Our speaker...