Weekly News – Aug 31, 2022
Aug 31, 2022
Greetings Everyone,
Our speaker tomorrow is Billy DuTremaine, owner of Ironwood Gym and Locke Street Eats.  Billy's presentation will be on How We're Changing the Community—Mind, Body, and Soul.   He works with young people involved in drug and alcohol abuse. Once they are rehabilitated, they can use his gym at no charge and often they get jobs with the food trucks.  We look forward to hearing from Billy DuTremaine.
A big thank you to Mike Lewis, Farmington Airport Manager, for presenting to us last week.  Mike told us there is a pilot shortage; to get all your ratings a student would have to invest  $150,000 – $180,000 into his education.  It is estimated America produces 5000-7000 pilots annually and 1/2 of our pilots will retire in the next 15 years.  Republicans in Congress proposed a pilot retirement increase hoping to keep our pilots until 67 years old.  Mike informed us airlines are looking at incentives to come into a city.   Mike told us he landed a small community air service development grant for 1.1 million dollars, there is a new grant available by the state for 2.25 million dollars (you have a carrier, here's the money), and city hall thinks they can get additional monies to come up with the four million dollars needed to land a two or three year airline deal.  Fares have increased by 47% since January.  Mike is full of valuable information.  Thank you Mike, for presenting to us last week.
Bring your $10 for your Boys and Girls Club BBQ Ticket taking place Friday, September 23rd from 4-7 pm.  This is a 100% profit event for the club, as Aztec Well Service donates 100% of the food.  Nikki will have your BBQ Tickets.
A note from Nikki Taylor………
Hello Everyone,
 Thank you so much for your time and support!
 Shoes for Kids:
Direction will obviously come from Stephenie but I wanted to get some dates and times going and then we can tweak but at least have some ideas.
Here are some thoughts…
Forms go out to the kids and their families on August 29th

Circulate and collect until September 19th-gives time for the 6 school sites to gather their groups of kids 

They start later than the Main Clubs

I will continue to update Karla on sizes and quantities throughout the process

Last date to turn in forms is September 19th 

Jill usually approves later ones if we have the budget and Karla usually doesn't have an issue adding

We can review that at the time

Karla has time to gather shoes for a couple of weeks 

She sometimes goes to ABQ to get more

Box and organize at Carpet One on October 3rd 

Thank you Lacey for help with additional funds for Socks!!!

Deliver and help kids try on at Farmington Main Club on October 10th at 1pm 

Will deliver 6 school site shoes to Main Club to be taken by Unit Directors

School entry is still not comfortable

Deliver and help kids try on at Bloomfield on October 11th at 4:30pm  
African Library
Goal is to do 2 libraries this year 

Limpopo Province, South Africa-November 1st due date

Uganda-November 15th due date

If we have the books, we will do two and pack the same day 

Jill and I are working on this now

Potential Packing date would be October 18th

We have enough for at least 1 for that date, but sounds like we will have 2
Thank you again to everyone that works so hard on our kids' projects!
Couldn't do this without everyone that supports and helps these programs!
 Nikki Taylor
Director of Development
Boys & Girls Club of Farmington
314-719-9327
Dining With The Dead is around the corner!  Tickets are sold out and a waiting list is already started!   Jill is thankful to Dustin Nolen and Scott Michlin for helping promote Dining With the Dead.  The event takes place September 10th at Greenlawn Cemetery and starts at 4:00 PM.   Great job Jill!
We would like to thank our guest, James Courtney  for attending our meeting last week.  James was a guest of Nikki Taylor, and is also her proud daddy. 
We are nearing the end of our deck of cards, in our weekly card game!  Will you be the lucky winner?  Bring your lucky dollar for your chance to win.  Good Luck!
If you have news/information for the Kiwanis Weekly News, please let Bernadette know!
San Juan County CASA (Court Appointed Special Advocates) is currently looking for volunteers and are trying to get the word out about their upcoming preservice training taking place October 4th.  The attached flyer has all the information about their upcoming training.
Please like us on Facebook,  riodelsolkiwanis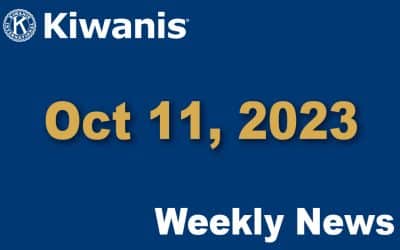 Oct 11, 2023 Hello Everyone, Our speaker...