Weekly News – Aug 23, 2023
Aug 23, 2023
Hello Everyone,
Our speakers tomorrow are Lt. Jesse Griggs, Lieutenant with the Farmington Police and Sergeant Kenneth Smith, Operations Supervisor of Regional Narcotics.  They will present on Narcotics Awareness in San Juan County and the drug problem locally.  We will hear how much of the drug problems go undetected because of the proximity to the Reservation and laws pertaining to the Reservation.
Tomorrow is also Chamber Business After Hours-Mardi Gras at San Juan Country Club 5-7 (Mountain West Insurance).  Don't miss this one.  Come and meet new friends! Cost $5 at the door.  Kiwanis is a Chamber member so everyone is invited to attend.
Thank you to our speaker last week, Ann Willow.  She is an Author and Free-Lance Writer. Her focus has been on MMIP-Missing and Murdered Indigenous People.  Ann has done a lot of research on this topic and we are grateful she shared so much information around these tragic events.  She was awarded the 2018/19 Anne Hillerman Award for non-fiction articles.
Thank you to our guests last week for joining us.  Lori brought her son Keigen Krueger, Bernadette brought Candace Shorty and Sherrie Chenault.
Bring your dollars to buy into the poker game; the cards are getting lower and it supports our yearly social, too!
Rio del Sol Kiwanis is pleased to announce we will be awarding 3 Honorary Kiwanis Members on Sept 7.  Nikki and Jill have met with these 3 community members and they are pleased to accept this special membership into our Kiwanis Club. They are: 
Shana Reeves-Assistant City Manager
T Greg Merrion-Retired President of Merrion Oil & Gas
Kenny Anderson-Franchise Owner of Local Taco Bells
Please keep these upcoming dates in mind and consider signing up for these important events. 
September 9th-Dining With the Dead-Greenlawn Cemetery. 4:00PM. Tickets are on sale for this 10th Anniversary event!
Mark your calendars for The Annual Summer Kiwanis Social – Saturday, September 16, from 5-8pm, at Summer Jakino's beautiful home.  Food, drinks, and fun will be provided. This would be a great time to invite prospective members. There will be a Corn Hole tournament with awards!!!! Now is the time to start interviewing prospective tournament partners.  Jill McQueary will pass a sign-up sheet for the social at our next meeting or feel free to email me at cfmayfield@gmail.com. Fran Mayfield
September 22nd-Boys & Girls Club of Farmington's 55th Annual BBQ.  See Nikki Taylor for Tickets.  NikkiT@bgcfarmington.org
Shoes for Kids is coming quick.  We will be organizing them at Carpet One on October 3rd at 3:30pm; thank you Lori for all your support and help with this each year!  We will then be trying them on and passing out to the kids at the Boys & Girls Club of Farmington on October 10th at 3pm.  The Bloomfield Club will be October 12th at 3pm.  Arrival about 2:30pm for early arrivals and being prepared. We hope you can come for a while and spend some time with the kids and help out!
November 1st and 2nd is Kiwanis Clothes for Kids at Target. Bob Brooks-Chairman.  50 to 60 volunteers needed each evening.  300 to 325 elementary children expected.
Nov 4th is Coats for Kids-Brian Turner-Chairman.
Please like us on Facebook,  riodelsolkiwanis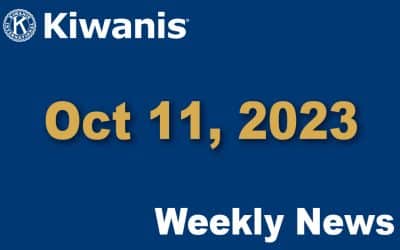 Oct 11, 2023 Hello Everyone, Our speaker...