Weekly News – May 4, 2022
May 4, 2022
Greetings Everyone,
Our speaker tomorrow is Joan Monninger, graduate of Leadership San Juan.  Joan will discuss her LSJ group project, Bridging the Gap, a pilot program pairing juniors/seniors at Rocinante HS with seniors/elders at the Lower Valley Senior Center.  Dialogue between the student and elder will help bridge the gap between generations by developing a better understanding of the challenges, culture, and experiences each has endured and overcome.  The information that student's compile for their projects/reports will become part of the permanent collection sent to the SJC Historical Society, ensuring both youth and elder voices in the community endure.
Tomorrow we will also be celebrating our ninth Birthday!  HAPPY BIRTHDAY TO US!  Come enjoy our birthday treat!
Tomorrow, May 4, 2022, is Kiwanis Club Elections.  The following candidates are unopposed.  President Elect, Bernadette Alarid; Secretary, Nikki Taylor; Treasurer, Chris Troyer; Membership, Dr. Bob Lehmer; Community Director, Dr. Ed Kompare; Board Member, Jill McQueary; BoardMember, D'Ann Waters; The new Board will be voted in by acclamation.  Another reason to come celebrate with us!
A big thank you to Olena Erickson, an immigrant from Ukraine, who presented to us last week and enlightened us to the many challenges of moving to a new country.   Olena came to Farmington ten years ago and got busy perfecting her English language and studying at San Juan College, and is now an accountant.  Olena was comical and interesting.  She shared photos of a beautiful Ukraine, and also a fast paced country, much like New York.  We are proud of you and your many accomplishments and we welcome you with open arms to Farmington, America. 
We welcome Jules Grandjean, owner of Proud Law, LLC who was inducted into Kiwanis last week.  Jules' firm is focused on Bankruptcy and also does Criminal Defense; he will soon go into Personal Injury and Estate Planning.  Congratulations Jules!  Thank you Debbie Fentiman of The Bridge Assisted Living for bringing Jules into our Kiwanis Family.
Joan Monninger, Chairman of the Downtown Farmington Historical Walk had a very successful event Saturday.  Throughout the evening we heard many compliments on Joan's hard work and how well the actors presented their character.  Many kudos to Joan for an amazing 2nd Annual Historical Walk!  We look forward to your next gala.  Congratulations Joan!
Please like us on Facebook,  riodelsolkiwanis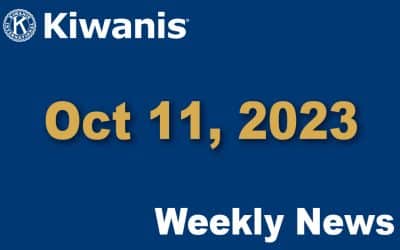 Oct 11, 2023 Hello Everyone, Our speaker...