Weekly News – May 25, 2022
May 25, 2022
Greetings Everyone,
Our speaker tomorrow is Ken MacAdams.  Ken says, join me as I present you with an insider's view of Portugal, from Medieval to Modern.  View the handiwork of the Roman Empire to the stunning hills of the northern wine country.  I'll show you palaces, cathedrals, and castles.  Portugal is a treat for the eyes, and often overlooked by tourists.  We are excited to see Portugal through your eyes, Ken.
We would like to thank Jarrod Slindee and Mark Phetzer of Guardian Initiatives.  They gave us an update on raising funds towards awareness for first responder mental illness and suicide prevention.  Team Guardian is a rowing team of first responders who will race across the Atlantic Ocean as part of the Talisker Whisky Atlantic Challenge 2022.  Jarrod and Mark have been training for the race and had answers to the many questions we asked.  These men will truly test themselves against Mother Nature for a very good cause. 
Wow!  What a great turnout we had in support of the Rocinante High School Key Club.   President Elect, Gary Hanson did an excellent job as emcee, thank you Gary.  Currently, there are over 20 students who signed up for Key Club.  Mr. Cody Diehl, incoming Superintendent of Schools, addressed the students as did Trey Jones, Key Club Immediate Past President, and SW District Lt. Governor. Thank you to those who took the time to attend the chartering of Rocinante Key Club.
Riverfest 2022 is this coming weekend!!!  Volunteer now, to help at the Duck Ticket Booth or other areas.  Half the proceeds from Duck Ticket sales will go to Kiwanis.  To volunteer, select the link,  https://riverreachfoundation.volunteerlocal.com  The Riverfest Duck Race is May 29 at 2:00 PM.  Please return ticket money or unsold tickets to D'Ann promptly.  Thank you! 
The Membership Committee will hold a New Member Orientation next Thursday, June 2, immediately following the regular meeting.  This is for new members or anyone wanting to learn more about Kiwanis, our club, and the Southwest District.  It should only take 10 to 15 minutes.
Outback Steakhouse Pancake Breakfast is Saturday morning, June 18th from 7am to 10am.  Thank you to our members for taking and selling tickets.  Please turn in your ticket  money to D'Ann as soon as you can. Make sure you note it is for Pancake Tickets.  The delicious breakfast consists of eggs, pancakes, bacon, coffee, milk and juice, all for $10.00.   And…100% of the money goes to Kiwanis Clothes for Kids. There will be first, second, and third place prizes for whoever sells the most tickets. Summer Jakino is Pancake Breakfast Chairwoman.
Big Brothers and Big Sisters is having their annual fundraiser, Bowl For Kids Sake, in June.  They are  looking for bowling teams and sponsors.  For more information, please contact Chris Troyer cdtroyer@gmail.com and let him know you are ready for action!  WE NEED KIWANIS BOWLERS!!!  The following link will allow Kiwanis members to join the Kiwanis Mighty Team or donate to our team.       https://p2p.onecause.com/sjc-bfks-2022/team/kiwanis-2     Thank You in advance!
The Children's Hope Foundation is raffling a 2022 Keystone Hideout in hope of raising $75,000 to aid families with sick children.  The money will stay in the community and helps with gasoline, food, lodging, etc.  The tickets are $25 or 5 for $100.  You can purchase your tickets at  Go.rallyup.com 
We would like to thank Kayla Capone, 2022 FHS graduate and a guest of proud mom, Racheal Tillman of Wells Fargo for attending our meeting last week.  Congratulations Kayla!  Come back and see us real soon!
Please like us on Facebook,  riodelsolkiwanis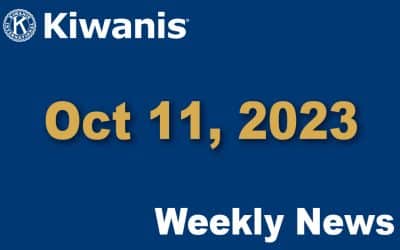 Oct 11, 2023 Hello Everyone, Our speaker...