Weekly News – Jul 6, 2022
Jul 6, 2022
Greetings Everyone,
Our speaker tomorrow is Scott Bird of 4CED.  Scott will give us an update on 4CED recently partnering with the San Juan College Film and Digital Media program.  They plan on creating seven videos showcasing aspects of life in San Juan County which will create an interest in our area as a possible new home for themselves and/or their businesses. 4 CED works hard to support and boost existing businesses.  We look forward to hearing from Scott.
A big thank you to Audra Winters, Executive Director at San Juan Regional Medical Foundation, for presenting to us last week.  Audra informed us of many projects the Foundation has participated in.  To name a few are the following.  A capital campaign, Building Wings, will begin construction July 5, 2022  to relocate the current pediatric unit to a new state of the art, child friendly building with private bathrooms and sleeper sofas in each room.  The Medical Foundation raises money to help cancer patients with expenses.  To date, this year, the Cathy Lincoln Memorial Cancer Fund has assisted 86 women and paid out $19,725 for medical expenses.   The Riley Mens Health Fund  has assisted 99 men and paid out $30,362, this year.  The Connelly Hospitality House is a home away from home, which is free to cancer patients and their family who have to come to Farmington for cancer treatments.  Lastly, the most recent fundraiser is a side by side, four seater, 2022 General, and a trailer to haul your toy!  The tickets are $25 each or 5 tickets for $100.  Buy your tickets which will raise money for the Riley Mens Fund!  
We would like to thank our guest who attended our meeting last week, Raeann Knight of Citizens Bank, guest of Jill McQueary.  Thank you for taking the time to attend our meeting.  We welcome you to come join us again very soon. 
Congratulations to our top ticket sellers of the Pancake Breakfast, Paul McQueary selling 120 tickets, Summer Jakino 50 tickets, and Tony Digiacomo and Bob Brooks selling 20 tickets each!  Thank you to our top sellers and our many Kiwanis members who sold tickets.  Don't forget to visit our local Outback Steakouse and thank awesome Arron Hinshaw for her generous donation.
Rhonda Stockert and Charlotte Peacock will be inducted into Kiwanis at our noon meeting, tomorrow.  Rhonda and Charlotte are sponsored by Jill McQueary.  Please come join us in welcoming our newest members.
Lynette Kennard of the Santa Fe Kiwanis Club has reached out to our club for help with the staging of Zozobra on September 2, 2022.  They need help with ticket sales and  merchandise sales.  The shifts are 2:30-7:00 PM or 6:00 to end of shift.  The pay is $10/hour in the form of donation to our Kiwanis Club.  A volunteer application will be available mid July and I will forward link  as promptly as we receive it.  If you haven't seen the Burning of Zozobra, it is a must see.  Please think about taking a fun trip to Santa Fe and lending a hand!
Get ready for a fun late summer Kiwanis Social.  Summer Jakino has very generously offered to have the social at her home on Saturday, Sept 17.  Fran, our social chairman has been working on finding a satisfactory date and looks like she found it!  Appetizers will be purchased by Kiwanis from our card drawing proceeds.  Fran has recruited her husband, Steve, to serve as bar tender. Mark your calendars and more details will come soon.
Thomas Jefferson and John Adams from Philadelphia, Pennsylvania (where the Declaration of Independence and Constitution were signed) are coming to Farmington Civic Center next May 13, 2023!  They were both Presidents and they died on the same day, July 4, 1826.  This event is co-sponsored by Farmington Rio del Sol Kiwanis and the Civic Center.  Once the actors have completed their debate, they will take questions from the audience.  We have reached out to find someone to play a drum and fife, dressed in costume.  Plans are to show a film prior to event with pictures from 1776 era.
Please like us on Facebook,  riodelsolkiwanis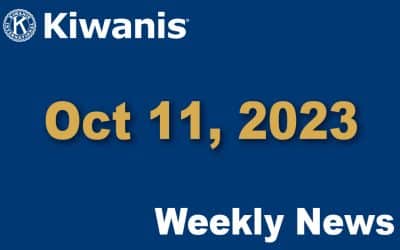 Oct 11, 2023 Hello Everyone, Our speaker...