Weekly News – Jan 18, 2023
Jan 18, 2023
Hello Everyone,
Our speaker tomorrow is Andrew Foster.  He is the Program Coordinator at Growing Forward Farm, operated by New Mexico State University's San Juan County Cooperative Extension Service. He is an Honorably Discharged Army Veteran and holds undergraduate degrees in Philosophy, English, Environmental Studies, and is working on his Master's in Cooperative Extension Education at NMSU. Growing Forward Farm is a 12-acre outdoor educational classroom that hosts field trips based around agricultural literacy for 4th graders, provides land for new farmers to host small market farm businesses upon, and seeks to develop the economic viability of local specialty crop production and agritourism. As Growing Forward Farm coordinator, Andrew oversees the day-to-day farm operations, mentor's county high school aged interns hosted by the department of education, organizes and teaches curriculum around sustainable agriculture principles, provides technical advising to new farmers, hosts community events, and assists with the local 4-H program."
Thank you to our speaker last week Bart Wilsey for coming and discussing the new, largest exhibit to come to Farmington- Tyrannosaurs-The Legacy. T-Rex was the ultimate tyrannosaur, one of the most formidable predators that ever lived.   There will be lots to see and do at the exhibit and they are hoping to have field trips and guests regularly.  This is the most expensive exhibit they have done and are still looking for sponsors.
Thank you Michelle Smith for joining us last week.  We were glad you came and spent time with us!
We were glad Bob Lehmer came and looked well!
He reminded us that the Outback Meal Tickets purchased to support Scholastic Books expires at the end of January so remind people to ensure they use them.
Christopher thanked everyone that helped and supported the Salvation Army projects over the holidays.  He said everything went very well!
Children's Hope Foundation released the newest version of their magazine, The Courageous Journal.  Thank you for bringing them and sharing with our group!
Bring your dollars to buy into the poker game and support our yearly social, too!
Please keep these upcoming dates in mind and consider signing up for these important events. 
May 13, 2023 is Thomas Jefferson and John Adams at the Farmington Civic Center.  Tickets will go on sale at the end of January. We would like to encourage members to dress in costumes from the 1776 era and let's make this a really cool event for our community.
Mark your calendar – Riverfest 2023 is May 26th through May 28th.  We look forward to your participation again this year.  Please note that the contact person has changed.  Glenda Allies Fox is the person you will be working with this year.
Please like us on Facebook,  riodelsolkiwanis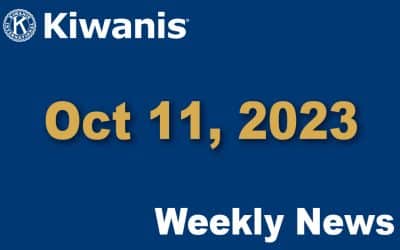 Oct 11, 2023 Hello Everyone, Our speaker...