Weekly News – May 10, 2023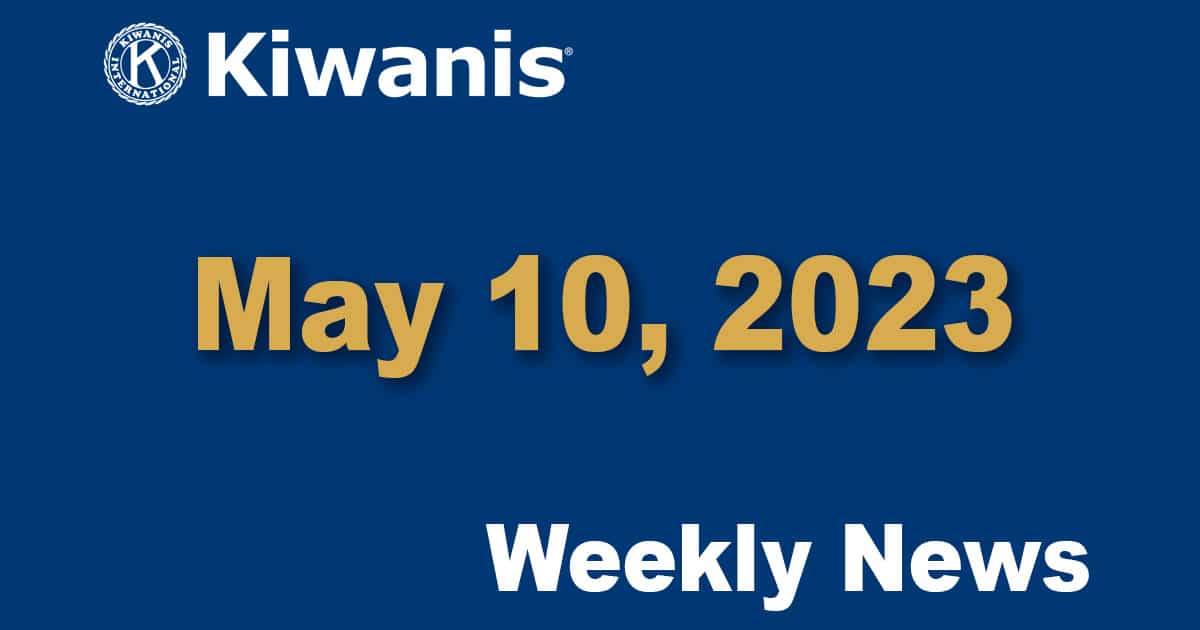 May 10, 2023
Hello Everyone,
Our speaker tomorrow Hank Adair-Director of Farmington Electric.  He will discuss-Are Black Outs Our Future?
Board Meeting at 1:00pm, immediately following the Luncheon.
Thank you to our speaker last week, Leslie Potter, Manager of Partners Assisted Living Services.  Thank you for your presentation on home care, with a specific focus on PALS services. We learned a lot about the benefits of home care and the resources available to people in the local community.
Also, thank you Amber Danek, sponsor of the FHS Key Club , and the amazing students that joined us. It was great to hear about your recent activities and the plans for attending the International Conference in Anaheim.
Thank you to our recent guests who have joined our meeting, Sarah Bouren-Guest of Stephenie, Tracee Loughran-Guest of Jill, and Jeanette DeKay-Guest of Jill.  We hope to see you again soon!
Congratulations to us; last week Kiwanis turned 10 years old!
Bring your dollars to buy into the poker game and support our yearly social, too!
 Please keep these upcoming dates in mind and consider signing up for these important events. 
May 13th – Please share information with your FB friends about this great event to meet Thomas Jefferson and John Adams!  This is a one-time only opportunity to meet two of our Founding Fathers at the Farmington Civic Center.  They are America's most famous pair of Feuding Friends.  After their performance there is a meet and greet in the foyer to encourage additional discussion and interaction. Several posts are on Kiwanis FB page; it is much appreciated if you'll share one or more with your Friends.
Riverfest is looking for volunteers. People can signup to sell tickets at the Duck Ticket Booths or for any other job listed on the volunteer site. Half the proceeds from Duck Ticket sales goes to Clothes for Kids.  Sign up here https://riverreachfoundation.volunteerlocal.com
June 17th will be the annual Outback Kiwanis Pancake Breakfast 8am-11am. Club members will be asked to help sell our $10 tickets…prizes for the top 3 sellers.  All proceeds raised go to our club, Outback absorbs all costs and labor. We only need a small group to set up event signage, ticket sales/collection at door, a bit of bussing tables and breakdown of signage. We raised roughly $3,000-$4,000 last year for just a little bit of effort on our part;)  
Bowl for Kids' Sake is Saturday June 24th at Bowlero Lanes.
Bowl for Kids' Sake is Big Brothers Big Sisters largest annual fundraising campaign. The money raised through this campaign will be used to support quality mentoring matches between caring adult volunteers and at-risk children in New Mexico. The goal for BFKS 2023 is to raise $23,000 to help children stay in school, graduate, build confidence, and achieve success in life.  All funds for SJC stays in San Juan County. 
We have a Rio del Sol Kiwanis Bowling team that Kiwanis members can join (you don't have to be a good bowler, it is just for fun) or you can donate to our team. To join the bowling team or to donate go to https://p2p.onecause.com/bfkssjc2023/accept?challenger=chris-troyer&team=kiwanis-4 
June 24th is also the Mac & Cheese Fest at Berg Park, 1pm-5pm.  If you are interested in volunteering for 3-4 hours for a free ticket to attend, please email NikkiT@bgcfarmington.org.  There are specific shifts before, during, and after, and they are filling fast.
Please like us on Facebook,  riodelsolkiwanis 
Sep 20, 2023 Hello Everyone, Our speaker...