Weekly News – Feb 8, 2023
Feb 8, 2023
Hello Everyone,
Our speaker tomorrow is Ken Collins.   He has developed an online course that teaches managers, business owners, etc. how to better manage their employees – to keep them happily employed.
Kiwanis Board meeting (1:00pm) immediately following the lunch meeting.
Tomorrow evening is the Chamber Business After Hours and is hosted at Traegers from 5 to 7pm.  5170 College Blvd.   $5 admission.
Thank you to our speaker last week, Soberta Bitsui.  The Family Crisis Center is a comprehensive Domestic Violence service provider. Services are provided at two facilities; Marge's Place, a protective shelter for victims of Domestic Violence and their children, and our Counseling Center which provides services and support to victims, child witnesses, and offenders.  Thank you for visiting with us!
We also inducted our newest member to Kiwanis, Michelle Smith.  We are pleased she joined the Kiwanis Family.
Thank you Brayleah Barnish for joining us last week as a guest; we are glad you came!
Bring your dollars to buy into the poker game and support our yearly social, too!
 Please keep these upcoming dates in mind and consider signing up for these important events. 
May 13, 2023 is Thomas Jefferson and John Adams at the Farmington Civic Center.  Tickets are now on sale. We would like to encourage members to dress in costumes from the 1776 era and let's make this a really cool event for our community.  We now have Les Leach and Tabitha John playing the drum and fife for the Jefferson and Adams event on May 13.  They will be in costume and playing music from the 1776 era outside the Civic Center before the event.  It will really set the mood for the debate between the 2nd and 3rd Presidents of the United States.
Please like us on Facebook,  riodelsolkiwanis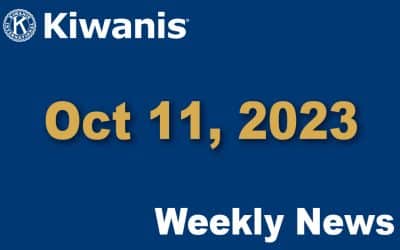 Oct 11, 2023 Hello Everyone, Our speaker...