Weekly News – May 18, 2022
May 18, 2022
Greetings Everyone,
Our speakers tomorrow are Jarrod Slindee and Mark Phetzer of Guardian Initiatives.  They will give us an update on raising funds towards awareness for first responder mental illness and suicide prevention.  Team Guardian is a rowing team of first responders who will race across the Atlantic Ocean as part of the Talisker Whisky Atlantic Challenge 2022, in just a few months.  We welcome Jarod and Mark and look forward to hearing from them.
A big thank you to Devin Long, Whitney Lengstorf, and Michelle Gabaldon of New Beginnnings for presenting to us last week.  The three ladies spoke to us about the "bridge after a family goes to an emergency shelter," after suffering family violence and/or sexual assault.  New Beginnings has a secure transitional housing on campus and the only one in the state.  The staff assist their victims with employment, medicaid, TANIF, food stamps, furthering their education, and a rent free home for one year.  They also have a trauma informed day care for resident and community kids.  New Beginnings is all about victims healing as a family, and having a successful life.  They are in need of funds and are looking to the community for donations.  A $5000 donation will have a room named after the donor and the Kiwanis Board has decided to do our best to make that happen with the donations from our Kiwanis members.  Thank you Devin, Whitney, and Michelle for a very informative presentation.
Scott Michlin and J.R. Sykes of KSJE Radio spoke to us briefly about their unique fund raiser.   KSJE Radio will be having their ZERO MILES FUN RUN next Saturday, 10:30AM at San Juan College.  The cost is $15 or $20 on the day of the run.  Whew!  We all enjoyed training for the Zero Mile Fun Run!  Scott says the overachievers can run the zero miles multiple times!  Let's support our KSJE Radio Station.
Congratulations to LeAndra Darby of Cornerstone Home Lending, Inc. for being inducted into Kiwanis, last week.  Cornerstone Home Lending, Inc. is a Bronze Member and we are proud to have them join our Kiwanis family.
The duck numbering affair took place last Saturday and we would like to thank those who showed up to number 4000 ducks.  We got them numbered in about 1.25 hours, thanks to our wonderful volunteers.  Yeah! On to the next project!
Rocinante High School Chartering Ceremony is tomorrow, Thursday, May 19th at 4:00pm at the Rocinante Gym. Please plan to attend and support these young students.  Currently, there are over 20 students signed up for Key Club and they are so excited.  Mr. Cody Diehl, incoming Superintendent of Schools, will address the students and our own President, Tony DiGiacomo, will do the installations. The new Key Club Lt. Governor, Peyton Frost, plans to attend.  If you can bring cookies, please let Jill know.
Riverfest 2022 is just around the corner.  Volunteer now, to help at the Duck Ticket Booth or other areas. Half the proceeds from Duck Ticket sales will go to Kiwanis.  To volunteer, select the link,  https://riverreachfoundation.volunteerlocal.com  The Riverfest Duck Race is May 29 at 2:00 PM.  Tickets are $5.00 or $50 for a book of twelve.  See D'Ann to get your book of tickets.  We all need to help sell, sell, sell….  You also can purchase tickets at these two centrally located sites, Carpet One Floor & Home, 3456 East Main Street 505-427-2530  and  Caregivers In Your Home 1910 North Dustin 505-325-7777.
Outback Steakhouse Pancake Breakfast is Saturday morning, June 18 from 7am to 10am.  Thank you to our members for taking and selling tickets.  Please turn in your stubs and money to D'Ann as soon as you can. Make sure you note it is for Pancake Tickets.   Keep encouraging your friends and family to take tickets.  It is a great breakfast-eggs, pancakes, bacon, coffee, milk and juice-all for $10. And…100% of the money goes to Kiwanis Clothes for Kids this November.  First, second, and third places prizes for whoever sells the most tickets. Summer Jakino is Pancake Breakfast Chairwoman.
Big Brothers and Big Sisters is having their annual fundraiser, Bowl For Kids Sake, in June.  They are  looking for bowling teams and sponsors.  For more information, please contact Chris Troyer cdtroyer@gmail.com and let him know you are ready for action!  WE NEED KIWANIS BOWLERS!!!  The following link will allow Kiwanis members to join the Kiwanis Mighty Team or donate to our team.       https://p2p.onecause.com/sjc-bfks-2022/team/kiwanis-2     Thank You in advance!
The Children's Hope Foundation is raffling a 2022 Keystone Hideout in hope of raising $75,000 to aid families with sick children.  The money will stay in the community and helps with gasoline, food, lodging, etc.  The tickets are $25 or 5 for $100.  You can purchase your tickets at  Go.rallyup.com
Please like us on Facebook,  riodelsolkiwanis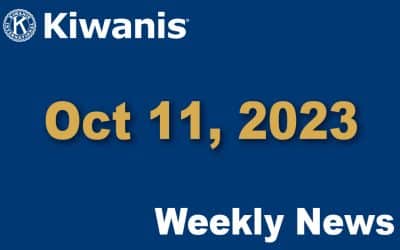 Oct 11, 2023 Hello Everyone, Our speaker...