Weekly News – May 11, 2022
May 11, 2022
Greetings Everyone,
Our speaker tomorrow is Devin Long, Grant Manager of New Beginnings.  New Beginnings is a transitional living program for survivors of domestic violence, sexual assault, and stalking.  Since 1994 our agency has aimed to break the cycle of violence.  Why, after so many years is family violence still a prevailing problem in society?  With our evolving, enhanced programs and ability to collaborate efforts from the community, we can work together to identify and resolve gaps in services that these survivors need.  It is together we can end generational trauma.
A big thank you to Joan Monninger, graduate of Leadership San Juan for sharing with us her group project, Bridging the Gap.  Pairing high school juniors and seniors with elders, together, they did a considerable amount of research on the state of things in San Juan County.  By reporting to leaders in our county the information they compiled, perhaps county leaders will listen and maybe we can see change and this group will have left a lasting legacy.  Great job Joan!
Tomorrow, there is a Board Meeting following the regular luncheon meeting.  Board members, please plan on attending.  Any non-board member wishing to attend is welcome. 
We sure enjoyed our beautifully decorated and tasty cookies at our birthday bash last week.  We would like to thank Kayla Kornfeld for donating the delicious Birthday Cookies in celebration of our 9th birthday.  Kayla can be reached at 316-323-4554 if anyone decides they too would like attractive cookies at their event.  Thank you Leandra for bringing the cookies in.  Thank you Kayla!  You are much appreciated.                
Leandra Darby with Cornerstone Home Lending submitted an application for Bronze membership at last weeks meeting.  They are sponsored by Jill McQueary.   The board briefly met after the noon meeting and approved their membership.  We will be inducting Leandra into Kiwanis at tomorrows regular meeting, representing Cornerstone Home Lending.  Congratulations!
We had several guests at last weeks meeting and would like to thank them for taking the time to attend.  Our guests were Jorge Villagran-Molina, a guest of Kerri Howlett and both are employed with Major Mortgage.  Tracee Loughran of HELP New Mexico, and a guest of Jill McQueary.  Mandy Felix and Nikki Sandoval-Belt, guests of LeAndra Darby and all are employed with Cornerstone Home Lending.  Thank you for joining us and we hope to see you again very soon.
It is DUCK numbering time again!  On Saturday, May 14th at 2:30 PM we need your help numbering the ducks for the Riverfest Duck Race.  Please grab your spouse and come on down to 14 Road 5860 in Farmington and lend a hand.  If your spouse can't come, bring your kid!  Please put this date on your calendar!  Key Clubs, we need your help!  See y'all there!
Rocinante High School Chartering Ceremony is Thursday, May 19th at 4:00pm at the Rocinante Gym. Please plan to attend and support these young students.  Currently, there are over 20 students signed up for Key Club and they are so excited.  Most of them don't have a car so we had to plan the Chartering for 4pm.  Mr. Cody Diehl, incoming Superintendent of Schools, will address the students and our own President, Tony DiGiacomo, will do the installations. The new Key Club Lt. Governor Peyton Frost, plans to attend.  If you can bring cookies, please let Jill know. 
Riverfest 2022 is just around the corner.  Volunteer now, to help at the Duck Ticket Booth or other areas. Half the proceeds from Duck Ticket sales will go to Kiwanis. To volunteer, select the link,  https://riverreachfoundation.volunteerlocal.com  The Riverfest Duck Race is May 29 at 2:00 PM.  Tickets are $5.00 or $50 for a book of twelve.  See D'Ann to get your book of tickets.  We all need to help sell, sell, sell….  You also can purchase tickets at these two centrally located sites, Carpet One Floor & Home, 3456 East Main Street 505-427-2530  and  Caregivers In Your Home 1910 North Dustin 505-325-7777.
Outback Steakhouse Pancake Breakfast is Saturday morning, June 18 from 7am to 10am.  Thank you to our members for taking and selling tickets.  Please turn in your stubs and money to D'Ann as soon as you can. Make sure you note it is for Pancake Tickets.   Keep encouraging your friends and family to take tickets.  It is a great breakfast-eggs, pancakes, bacon, coffee, milk and juice-all for $10. And…100% of the money goes to Kiwanis Clothes for Kids this November.  First, second, and third places prizes for whoever sells the most tickets. Summer Jakino is Pancake Breakfast Chairwoman.
Big Brothers and Big Sisters is having their annual fundraiser, Bowl For Kids Sake, in June.  They are  looking for bowling teams and sponsors.  For more information, please contact Chris Troyer cdtroyer@gmail.com and let him know you are ready for action!  WE NEED KIWANIS BOWLERS!!!  The following link will allow Kiwanis members to join the Kiwanis Mighty Team or donate to our team.       https://p2p.onecause.com/sjc-bfks-2022/team/kiwanis-2     Thank You in advance!
The Children's Hope Foundation is raffling a 2022 Keystone Hideout in hope of raising $75,000 to aid families with sick children.  The money will stay in the community and helps with gasoline, food, lodging, etc.  The tickets are $25 or 5 for $100.  You can purchase your tickets at  Go.rallyup.com
Please like us on Facebook,  riodelsolkiwanis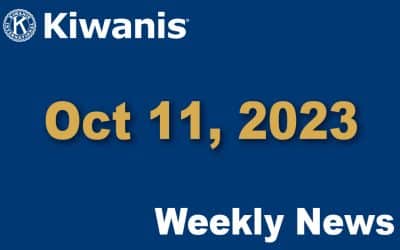 Oct 11, 2023 Hello Everyone, Our speaker...