Weekly News – Jul 20, 2022
Jul 20, 2022
Greetings Everyone,
Our speakers tomorrow are Andrea Pena and Sarah Herrera, Child Haven's new Foster Care Recruiters. Childhaven has been "Lifting Children from Crisis to Hope" for over 50 years. Andrea Peña, Childhaven Foundation Chief Development Officer, will provide an update about Childhaven's current programs. Specifically, she will discuss how Childhaven's Foster Care program is in need of foster parents now. She will also share how Kiwanis members can help the children Childhaven serves.
At tomorrows meeting, Nicole Clark with Basin Home Health will share information about the upcoming New Mexico Mission of Mercy Free Dental Clinic being held on Sept 23-24.  They are looking for volunteers and patients.
A big thank you to Laura Walters Harper and her support team Mary Brooks and Judy Clerie of the San Juan County Historical Society, for presenting to us last week.  Laura presented a documentary on a once wild mustang, Rambo of the Carracas Mesa and spoke of the local Mustangs and Mustangers.  Laura invited us to see the video of Rambo, which was presented at the Farmington Civic Center July 16, 2022.  We had a wonderful time listening to Laura's passionate story of the Mustangs in Carracas Mesa.
Congratulations and welcome to Rhonda Stockert who was inducted into Kiwanis last week.   Welcome Rhonda!
Many thanks to our guest who attended our meeting last week.  Amanda Fox, a guest of Jenn Perry and both of Farmington Caregivers.  Thank you for taking the time to join us.  Please hurry back!
Calling All Kiwanis!  We need Kiwanis volunteers for the following two upcoming events!
Saturday, July 30, 2022…….Back To School shopping event at Animas Valley Mall from 11:30 A.M. to 3:00 P.M.  Jill has ordered brochures, Tony has games, our vertical display will be on display next to our table, and the Mall will provide prizes.  If you would like to donate a prize, please let Bernadette know asap.
Saturday, August 6, 2022…..Back To School at Farmington Civic Center from 10:00 A.M. to 3:00 P.M.  This is a great opportunity for Kiwanis to be visible in the community, share what Kiwanis does, recruit members, and sponsors.
Please volunteer and help make these exciting and successful Kiwanis events!  
Thomas Jefferson and John Adams from Philadelphia, Pennsylvania (where the Declaration of Independence and Constitution were signed) are coming to Farmington Civic Center next May 13, 2023!  They were both Presidents and they died on the same day, July 4, 1826.  This event is co-sponsored by Farmington Rio del Sol Kiwanis and the Civic Center.  Once the actors have completed their debate, they will take questions from the audience.  We have reached out to find someone to play a drum and fife, dressed in costume.  Plans are to show a film prior to event with pictures from 1776 era.
Please like us on Facebook,  riodelsolkiwanis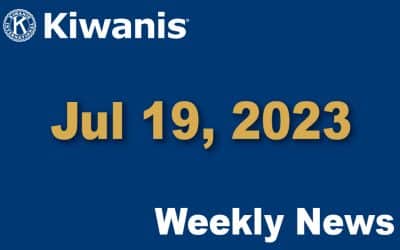 Jul 19, 2023 Hello Everyone, Our speaker...